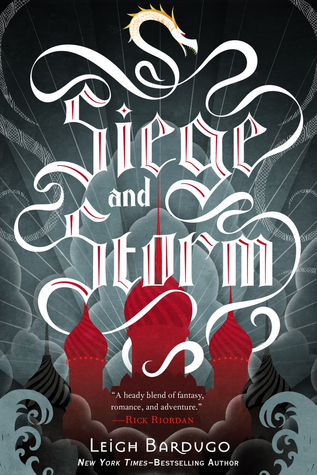 Goodreads Summary:
Darkness never dies.
Hunted across the True Sea, haunted by the lives she took on the Fold, Alina must try to make a life with Mal in an unfamiliar land. She finds starting new is not easy while keeping her identity as the Sun Summoner a secret. She can't outrun her past or her destiny for long.
The Darkling has emerged from the Shadow Fold with a terrifying new power and a dangerous plan that will test the very boundaries of the natural world. With the help of a notorious privateer, Alina returns to the country she abandoned, determined to fight the forces gathering against Ravka. But as her power grows, Alina slips deeper into the Darkling's game of forbidden magic, and farther away from Mal. Somehow, she will have to choose between her country, her power, and the love she always thought would guide her–or risk losing everything to the oncoming storm.
 My Thoughts:
THIS SERIES! I reviewed the first book earlier. So I was iffy during the first book because of all the Russian style words and names, and I'm not good with stuff I can't pronounce. BUT OMG IT WAS SO GOOD. So of course I started the second one immediately after, and it was still so fucking good. STURMHOND!!!!!!!!!!!!!!!!!!!! Swoon so hard. I LOVE HIM. My friend told me her favorite character was Nickolai, and I was like well I haven't gotten to him yet, but how are you not mentioning Sturmhond, because he's the best. So she was all
I like that Alina is getting these darker style powers and really getting into it. I know you aren't supposed to like that but I still ship Alina and the Darkling….so there's that. She's a bad ass. I still don't like Mal. I feel like he is such a dick. He is jealous and not understanding at all. Just grrrr. Grow the fuck up MAL! I am glad that I have book 3 already because there is no way I am waiting to dig in.
Quotes:
"When people say impossible, they usually mean improbable."
"What is infinite? The universe and the greed of men."
"Oh, and the easiest way to make someone furious is to tell her to calm down."
"Weakness is a guise. Wear it when they need to know you're human, but never when you feel it."