Goodreads Summary:
Surrounded by enemies, the once-great nation of Ravka has been torn in two by the Shadow Fold, a swath of near impenetrable darkness crawling with monsters who feast on human flesh. Now its fate may rest on the shoulders of one lonely refugee.
Alina Starkov has never been good at anything. But when her regiment is attacked on the Fold and her best friend is brutally injured, Alina reveals a dormant power that saves his life—a power that could be the key to setting her war-ravaged country free. Wrenched from everything she knows, Alina is whisked away to the royal court to be trained as a member of the Grisha, the magical elite led by the mysterious Darkling.
Yet nothing in this lavish world is what it seems. With darkness looming and an entire kingdom depending on her untamed power, Alina will have to confront the secrets of the Grisha . . . and the secrets of her heart.
Shadow and Bone is the first installment in Leigh Bardugo's Grisha Trilogy.
My Thoughts:
I read The Language of Thorns and I LOVED IT SO MUCH! So I knew I needed to read the Grishaverse books. I started this book in 2015 and DNF, but I was literally another person back then. I did not like it enough to finish the first time through, because of the names. I don't like it when the names are unpronounceable to me.  The city names, the name of the Darklings guards. GRRRRRRRRRR. Oh fantasy, why do you do this to me?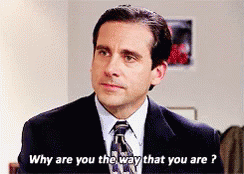 BUT I LOVED LANGUAGE OF THORNS! And my friend Candace recommended this series, so I gave it another shot. I still had trouble with all the names, because I don't know how to pronounce  things at all. Putting that aside, this plot and the characters were really good! I don't really enjoy many fantasy books because of the name thing. I do like how this was set in an old world (like many fantasy novels.) All of the city names, and foods seem very Russian. I even had to looked it up to see if the author was Russian, but no. The story was great. I love that she didn't go into too much detail on every page, but you still get fully immersed in Ravka. I loved Alina. She is sassy, and self-deprecating. She was very well written. Mal is her childhood best friend, and love interest. AND I HATE HIM. He is charming, and charismatic, and gets the girls. Alina pines after him, and he is oblivious. UNTIL SHE GETS POWER! Then she stops being sickly, scrawny, and weak. So now Mal is all Hey girl, and Alina comes running. BUT FUCK THAT. It reminds me of the girls on Maury who have an extreme makeover so they can get their childhood crush, and then the crush is like oh yah I can see what a great person you are now that you are hot. NO. The Darkling. I admit, I shipped it. Obviously it doesn't work out, but in the beginning. Alina also becomes friends with Genya! YAAAAS. I loved her. She is a Grisha servant to the Queen, but she is full of snarky comments, and style.
Quotes:
"The problem with wanting," he whispered, his mouth trailing along my jaw until it hovered over my lips, "is that it makes us weak."
"They are orphans again, with no true home but each other and whatever life they can make together on the other side of the sea."
"This was his soul made flesh, the truth of him laid bare in the blazing sun, shorn of mystery and shadow. This was the truth behind the handsome face and the miraculous powers, the truth that was the dead and empty space between the stars, a wasteland peopled by frightened monsters."