Goodreads Summary:
The Titanic meets the delicious horror of Ransom Riggs and the sass of Mean Girls in this follow-up to the #1 New York Times bestseller How to Hang a Witch, in which a contemporary teen finds herself a passenger on the famous "ship of dreams"—a story made all the more fascinating because the author's own relatives survived the doomed voyage.
Samantha Mather knew her family's connection to the infamous Salem Witch Trials might pose obstacles to an active social life. But having survived one curse, she never thought she'd find herself at the center of a new one.
This time, Sam is having recurring dreams about the Titanic . . . where she's been walking the deck with first-class passengers, like her aunt and uncle. Meanwhile, in Sam's waking life, strange missives from the Titanic have been finding their way to her, along with haunting visions of people who went down with the ship.
Ultimately, Sam and the Descendants, along with some help from heartthrob Elijah, must unravel who is behind the spell that is drawing her ever further into the dream ship . . . and closer to sharing the same grim fate as its ghostly passengers.
My Thoughts:
This cover though! When I read How to Hang a Witch and read the author's biography, I told my friend (who also read the book) that I hoped the sequel would be Titanic themed, and she has already gotten it, so she told me IT IS! I bought it immediately.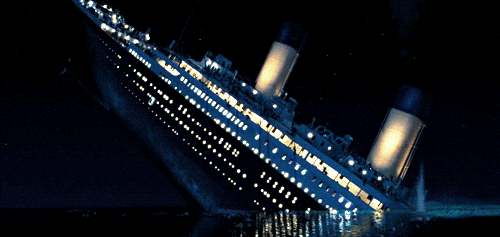 YAAAAAAAAS. A Titanic ghost story? I am so fucking there. This book immediately follows book one, and you definitely need to read it, because it is amazing. It starts with Sam at breakfast with Jaxon, her dad, and Ms. Merriweather, and Sam sees the ghost of a little dead girl from the Titanic (she doesn't know that yet.) She pretends it isn't happening.  She is trying to pretend that no magic exists anymore after everything that happened to her, and the Descendants in book one.  OF COURSE THAT CAN't HAPPEN. Later she ends up seeing the spirit of a drowned man, so in this book we have not just one, but two spirits! YAY. I wasn't really sure how Titanic would fit into a series that started with the Salem Witch Trials, but it was done very well. The author actually has all this amazing and tragic history in her family tree.  Anyway, Sam decided to tell Jaxon everything that has gone on, and he acts like such a dick about it, which was a bit surprising after how amazing he was in the first book. I mean I get that he doesn't like magic and spirits, and he is so mega jealous of Elijah (and for good reason) but damn. Then he blows Sam off, for that bitch Niki, and I was like OHHHHHHHHHHHHHHHHHHH. I know what is happening here. Magic. There is no way my sweet, furniture making, pastry bringing, Jaxon has lost his mind without a little help from some magic.  There is a new kid at school, and so I immediately suspect him as being involved, even though they didn't really give any indication that he was going to be a major part of the book, but I was like I'M WATCHING YOU FOREIGN EXCHANGE KID! The school is having a Titanic themed dance, so naturally all the teachers change their entire curriculum to include a Titanic study, which explains how everyone Sam is around is so immersed into Titanic. Then Sam starts getting mystery packages from her dead relative, who survived the Titanic, and having nondreams where she actually goes to this kind of alternate reality Titanic. The last time she was there, I was so on the edge of my fucking seat.
It was so exciting!!!!!!! All the times she is on the Titanic were actually really cool scenes, because just picturing how fancy it was, and the fashion. Those were definitely my favorite scenes in the book. Overall this book is a win. Can't wait to see what the next book in the series will be. My guess is the revolutionary war, because the author has that in her family history as well. Oh and can we please get a spinoff book on the Descendants before Sam came to Salem? Because they are epic.