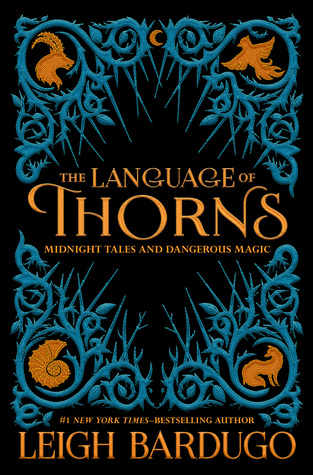 Goodreads Summary:
Love speaks in flowers. Truth requires thorns.
Travel to a world of dark bargains struck by moonlight, of haunted towns and hungry woods, of talking beasts and gingerbread golems, where a young mermaid's voice can summon deadly storms and where a river might do a lovestruck boy's bidding but only for a terrible price.
Inspired by myth, fairy tale, and folklore, #1 New York Times–bestselling author Leigh Bardugo has crafted a deliciously atmospheric collection of short stories filled with betrayals, revenge, sacrifice, and love.
Perfect for new readers and dedicated fans, these tales will transport you to lands both familiar and strange—to a fully realized world of dangerous magic that millions have visited through the novels of the Grishaverse.
This collection of six stories includes three brand-new tales, all of them lavishly illustrated with art that changes with each turn of the page, culminating in six stunning full-spread illustrations as rich in detail as the stories themselves.
My Thoughts:
OMG THIS BOOK YOU GUYS! I haven't read the other books in the Grishaverse, but now I have to. THIS BOOK WAS AMAZING. All of the fairy tales were soooooo good. I loved recognizing the stories I am used to mixed into these like, The Little Mermaid, Hansel and Gretel, Cinderella, and The Nutcracker. I love how it isn't Disney style fairy tales. The princess does not always marry the first prince that she meets. Good does not always triumph. The villain isn't always who you think it is. AND THE ARTWORK! IT IS SO BEAUTIFUL! I love that it shows women can be beautiful, and good, and evil, and dark, and cunning, and just anything.
Quotes:
"You see, some people are born with a piece of night inside, and that hollow place can never be filled – not with all the good food or sunshine in the world. That emptiness cannot be banished, and so some days we wake with the feeling of the wind blowing through, and we must simply endure it as the boy did."
"We were not made to please princes."
"This goes to show you that sometimes the unseen is not to be feared and that those meant to love us most are not always ones who do."
"This is the problem with making a thing forbidden. It does nothing but build an ache in the heart."
"She held each sorrow like a chafing grain and grew her grudges like pearls."
"But hope rises like water trapped by a dam, higher and higher, in increments that mean nothing until you face the flood."
"A thousand desperate wishes have been spoken on these shores, and in the end they were all the same: Make me someone new."
"I can bear ugliness, I find the only thing I cannot live with is death."
"Wanting is why people get up in the morning. It gives them something to dream of at night. The more I wanted, the more I became like them, the more real I became."